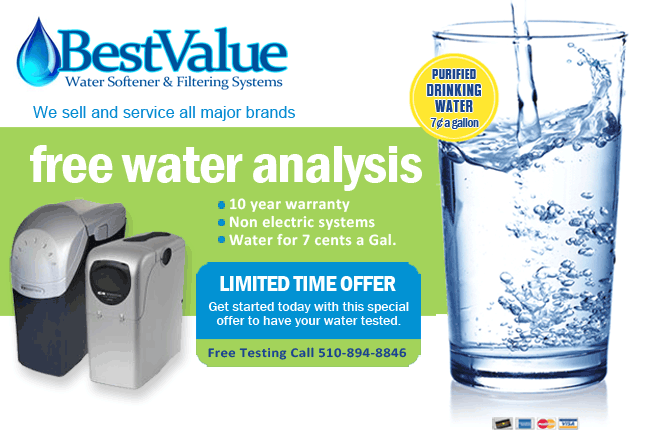 BestValue Water Softener & Filtering Systems in Northern California
We are exclusive water softening dealers in Northern California. We sell, install and repair water softener systems, treatment and filtration products. We have sales offices in most cities in these counties; Contra Costa, Alameda, Solano, Sacramento, San Joaquin, Fresno and Stanislaus.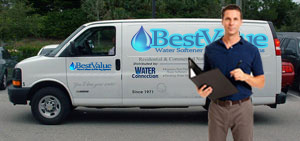 Who we are and what we do.
We are an established water softener, filtration and treatment franchise company located in Northern California.
Our coverage area includes Sacramento to San Jose. We have a fleet of service vans and professionally trained experts ready to come to your home and test your water. Our company has been servicing the Bay Area residents for over 20 years with a proven track record.
Joe started this business in 1990 with just one employee and built it up into the most effective water filtering and softener service and repair businesses in Northern CA. We have hundreds of testimonials proving this, and they are available upon request. Our softening and filtration products deliver the best value for your money. Our water cleaning process is such a benefit to local homeowners. It makes what we do especially rewarding.
Our choice for water systems was easy as we represent only the best line of products. Our service techs are trained to be polite and maintain your purifying systems with the utmost ability. We are constantly educating our employees on new and up-to-date technologies.
Benefits of Softened Purified Water
Here are some of the benefits you'll enjoy after installing a whole-house water treatment system
Experience soft water that's chlorine free
You won't have to put up with chlorinated water's smell, taste, and drying effects.
Save money on soaps and cleaning products.
Using soft water means using fewer detergents and cleaners yet still having better cleaning results.
Protect your plumbing.
Clean, soft water keeps plumbing free from scale build-up and save money on a costly pipe and water heater replacements.
Taste the difference.
Recipes, beverages, and foods made with water will taste delicious.
Enjoy great drinking water right on your tap.
Water is conveniently available without any hassles.
Discover peace of mind.
You can rest assured you're drinking the highest quality water at a great price.
Protect your water-using appliances.
Clean, soft water will help your water-using appliances work better and last longer, which saves you money.
Discover softer, smoother hair and skin.
You'll be amazed at how much better your skin and hair will look and feel with soft water.
Same time spent cleaning
Soft water eliminates scale, soap scum, and hard water stains, so clean-up time is reduced.
Drink the suggested eight glasses of water a day
It will be easy when the water tastes so good and is readily available.
Enjoy wider brighter laundry
Detergents work better in soft water, so you'll notice better laundering results and save money on replacements
Make clean clear ice cubes
Great drinking water makes great ice cubes
Eliminating spotting
The hard water spots disappear when washing dishes, glasses, and silverware with soft water
Give your pet high-quality water too
Even your pets will appreciate and notice the difference