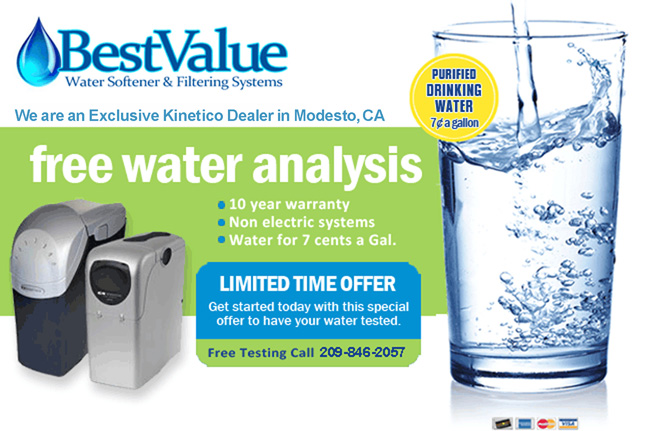 Whole House Water Softeners and Water Filtration Systems in Modesto, CA
We are a water softening equipment supplier in Modesto, California. We service and repair all brands and models of water softening and filtration equipment. Our company has provided a full range of water treatment solutions to families and businesses for over 25 years.
The 10yr. warranty made it a no brainer.
May 10, 2013
- Warren and Irene Gibbs, Modesto
BestValue Water Softener & Filtering Systems
I just wanted to say how much we are enjoying our new water system. Thanks for going over all the details with us. Things have changed quite a bit since we bought our first system 25 yrs ago. The ten-year warranty made it a no-brainer.
The installation was flawless; the young tech was very professional and did an excellent job for us.
Which water softener brand is best for softening Modesto water?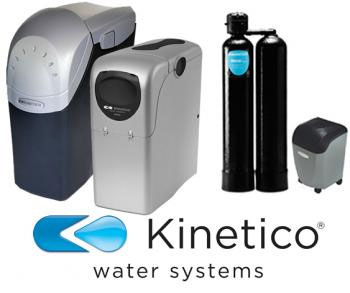 If you've got hard water or sensitive skin, you probably want to know about water softeners. Water softeners help to reduce the amount of calcium, magnesium, and iron in your water. They can also make your skin less itchy or dry, and they minimize limescale build-up on your faucets. But some types of water softeners are better than others.
When you are buying a water softener, there are many brands and models to choose from. Some are better than others, but by far, BestValue water softeners stand out as the best.
BestValue water softeners remove hard water minerals and other impurities from water by converting them to sodium, magnesium, and calcium ions. Hard water can cause scale and corrosion, which can ruin the normal function of your water system. Most home systems have a reverse osmosis system that filters out the hardness minerals, but it is essential to remember that not all systems are created equal.
As hard water enters your home, it usually goes directly to your faucets and hot water tank. Once in the tank, the hardness is dissolved by the water, which removes unwanted minerals through a process called ion exchange.
In this process, a resin bed is placed in an ion exchange solution that contains calcium and magnesium ions. The positive ions from the ion exchange solution replace the "hard" calcium and magnesium ions with sodium ions, which do not have damaging effects. Once the bed is full of negative ions, the resin is regenerated with sodium chloride (salt) to start the process over.
What are the benefits of using a BestValue water softener?
When you have hard water, it can harm your skin, hair, and health. The minerals in hard water can leave those with hard water feeling itchy and dry, and your hair will look dull and brittle. Hard water can also leave soap scum behind. What makes hard water bad for your skin is that many dissolved minerals are called hydroxyapatite. These minerals make it incredibly tough on your skin. If you have hard water, you will notice itchy, scaly skin, and your nails will get rough.
CALL US TODAY AND SCHEDULE YOUR APPOINTMENT: 209-846-2057
Why are BestValue Water Softeners the best choice?
Our systems lead the industry in performance and reliability. The underlying cause of most softener repair and service calls is that the traditional softener uses hard water for self cleaning and regeneration. Because it cannot both regenerate and produce soft water for that regeneration at the same time. As a result the hard water damages the system. To fix this problem our systems have dual tanks where one tank cleans and regenerates with soft water produced from the other tank, therefore it is never exposed to hard water, resulting in unmatched reliability. This is why we have the confidence to offer a 10-year warranty on all systems.
Bestvalue's system is always ready and delivers soft water 24/7. Soft water can be produced in one tank while one is recharging and in the other tank that is online.

BestValue's water filtration systems are powered by the power of moving water — an environmentally friendly alternative that reduces carbon footprint and improves health.

BestValue's softeners require very little maintenance. If you require more soft water, your system will make more, and if your needs are lower, your system will automatically turn on standby.

BestValue's water filtration systems are professionally installed by a water specialist. Our systems are designed to integrate with your home's environment so that we can make sure that your system is a perfect fit for you and your family.

BestValue is a national manufacturer and retailer of water softeners, providing customers with the best value in water treatment through its wide selection of models that work with both City and well water.
How much should a water softener cost?
The answer will depend on factors such as the type and quality of the unit, installation level, and whether you have a private well or municipal water.
In the end, the cost of a water softener is a combination of many factors. First, you need to determine how hard your water is. Then, you need to figure out if you need a whole-house system to treat all your taps or if a single-tap purifier would suffice. However, if you live in Modesto with particularly hard tap water, you'll need to invest in a whole-house system.
Other things to consider when buying a water softener:
What size water softener do you need? Consider how much water needs softening (based on the size of the house, number of people in the family, and other factors) and how much water is used. Give us a call to determine what is the exact size needed for your family.
How hard is your water? We offer free water testing, a $79 value. Modesto homeowners need to know the hardness level of their water to get the right system for their needs.
What is in your water? Is it clean enough to drink? There are many complex and soft minerals, bacteria, and viruses in our City's water supply. A water softener installation often includes a pre-filter to address chlorine or chloramine concerns and a reverse osmosis filter under the kitchen sink that provides clean water for drinking and cooking.
Servicing Water softeners in Modesto, CA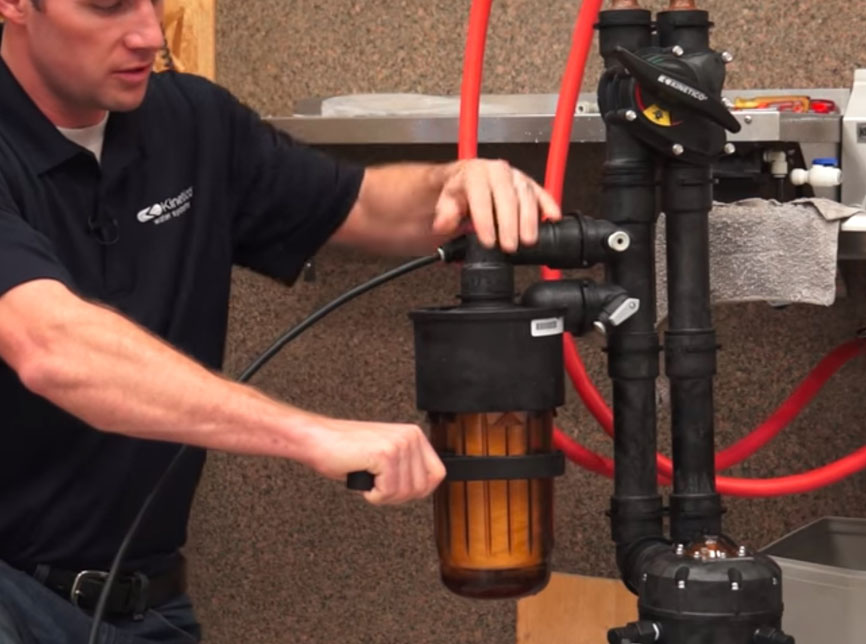 Our first time in Modesto was for a service call at a home near Graceada Park that had a three-year-old big box store brand water softener. The homeowner was frustrated because the the unit itself had a complex electronic control panel that his children had been playing with to see if they could notice a change in the water, and as a result, nothing was working right. He just wanted the system brought to normal again.
Avoiding problems like this is one of the many reasons why we sell only the Kinetico brand. We guarantee our water systems remove all hardness, leave zero grains, and do not have any control panels, dials, or settings that burden the owner or temptation to children. Therefore a Service call under these circumstances would never happen.
You can have confidence that if you have any problem with your existing system, we have the knowledge and expertise to do whatever is possible to make that system perform again at an optimal level.
Where Does Modesto get its Water From
Historically Modesto has sourced all water from underground wells. It was only until the 1990's that they partnered with the Modesto Irrigation District to include water from the Tuolumne River. The water, according to the City's annual water quality report, averages at the high end of hard all the way up to three times the extremely hard level using the United States Geological Survey water hardness charts. The water also includes lead, coliform bacteria, uranium, and Dibromochloropropane (a synthetic chemical) all far above California EPA public health goals.
CALL US TODAY AND SCHEDULE YOUR APPOINTMENT: 209-846-2057
Location:
BestValue Water Softener & Filtering Systems
1012 Eleventh St
Modesto
CA
95354
USA
209-846-2057
Operating Hours:
Monday - Friday,
8:00 a.m.-5:00 p.m.
Saturday
8:00 a.m.-5:00 p.m.
Sunday
Closed
GEO:
37.641803
,
-120.999511