Contact Us for Clean, Healthy, Safe Water in Brentwood, CA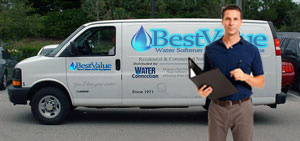 We are a water softening company in Brentwood, CA. That is a very generic description for what we offer but it's hard to list all the various types of descriptions our customers often use for getting their water clean and safe to use. Basically we sell and service water filtration and purification equipment.
We are located on the corner of Brentwood Blvd. and Sand Creek Road in Brentwood California.
We started this company thirty years ago and continue to service the Brentwood area. We have many customers out here that need our help and we aim to make sure they get it. If your frustrated with all those gimmicky name brands that are really made by the same generic company, give us a call and get the surprise of your life. Our products last, period. We back everything up with a ten year warranty.
For a good solid information about water quality and the best way to get healthy water for your family ask for Joe or Tony.
Ken Place
BestValue Water Softener & Filtering Systems
151 Sand Creek Road
Brentwood
CA
94513
USA
925-308-6558
Operating Hours:
Monday - Friday,
8:00 a.m.-5:00 p.m.
Saturday
Closed
Sunday
Closed
GEO:
37.947707
,
-121.698394