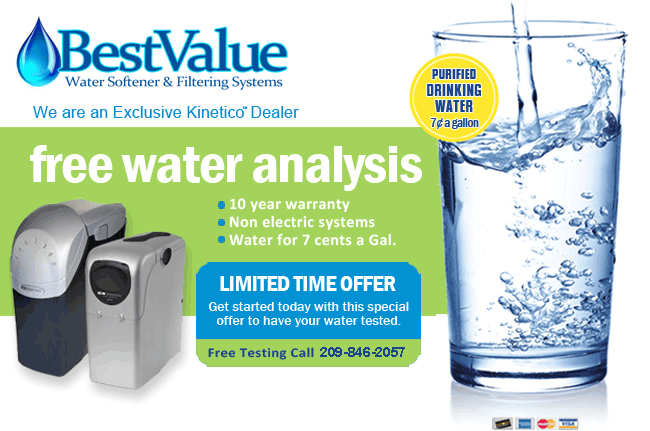 Home Water Systems, Softeners, Filtration, Purification Modesto, CA
Modesto California area water softeners, water treatment systems, filters and purifying equipment sold, installed & repaired to create pure clean drinking water. Best of all we offer free water testing, a $79 value.
The 10yr. warranty made it a no brainer.
May 10, 2013
- Warren and Irene Gibbs, Modesto
BestValue Water Softener & Filtering Systems
Just wanted to say how much we are enjoying our new water system. Thanks for going over all the details with us. Things have changed quite a bit since we bought our first system 25 yrs ago. The 10yr. warranty made it a no brainer.
The installation was flawless, the young tech was very professional and did a great job for us.
Our first time in Modesto was for a service call at a home near Graceada Park that had a three year old big box store brand water softener. The homeowner was frustrated because the unit itself had a complex electronic control panel that his children had been playing with to see if they could notice a change in the water and as a result nothing was working right. He just wanted the system brought to normal again. Modesto has extremely hard water, as reported by the City annually, and having a functioning softener is important.
Avoiding problems like this is one of the many reasons why we sell only trusted brands. We guarantee our water systems removes all hardness, leaving zero grains, does not have any control panels, dials, or settings that place a burden on the owner or temptation to children. Therefore a Service call under these circumstances would never happen.
CALL US TODAY AND SCHEDULE YOUR APPOINTMENT: 209-846-2057
How Reliable are our Treatment Systems
Our systems lead the industry in performance and reliability. The underlying cause of most softener repair and service calls is that the traditional softener uses hard water for self cleaning and regeneration. Because it cannot both regenerate and produce soft water for that regeneration at the same time. As a result the hard water damages the system. To fix this problem our systems have dual tanks where one tank cleans and regenerates with soft water produced from the other tank, therefore it is never exposed to hard water, resulting in unmatched reliability. This is why we have the confidence to offer a 10-year warranty on all systems.
Water Treatment, Filtration, and Reverse Osmosis
There is no single process by which you can treat water to make it pure. Arsenic, lead, chlorine, odors, and hardness all require a different process. This is why we always offer a free water quality test to anyone interested in understanding their water. This tests the water in your home and the results lead to a recommendation of how to treat your specific water. This way we can make certain that you save money and have pure water by only installing the system you need, eliminating unnecessary processes.
You may have heard of Reverse Osmosis. This is one of the most common methods of water filtration. Reverse Osmosis is used in systems that eliminate a number of common impurities. The important thing to know about reverse osmosis is that the resulting purity is only as good as the filter used. Our reverse osmosis systems have high quality filters that consistently outperform the competition.
We Repair & Service All Brands
Our team has been in the business for over 20 years and over that time we have worked with almost every water filtering and softening system ever made and sold in the United States.
You can have confidence that if you have any problem with your existing system, we have the knowledge and expertise to do whatever is possible to make that system perform again at an optimal level.
Where Does Modesto get its Water From
Originally established as a train stop between Los Angeles and Sacramento in 1870 the population reached 100,000 in the 1980's and since that time it has grown to more than 200,000 residents and 69,107 households. Residential and business water is supplied by the City who also supplies Waterford, Empire, Del Rio, Salida, Hickman, and to some Turlock and Ceres residents.
For most of its history the City has sourced all water from underground wells. It was only until the 1990's that they partnered with the Modesto Irrigation District to include water from the Tuolumne River. The water, according to the City's annual water quality report, averages at the high end of hard all the way up to three times the extremely hard level using the United States Geological Survey water hardness charts. The water also includes lead, coliform bacteria, uranium, and Dibromochloropropane (a synthetic chemical) all far above California EPA public health goals.
The largest employer within the City is E J Gallo followed by the City school district and Doctors Medical Center. The newly revitalized downtown, the Gallo Center for The Arts, the Modesto Nuts, SummerFest, X-Fest, and the Townsend Opera along are just a few of the many things that make the city unique and enjoyable for residents.
CALL US TODAY AND SCHEDULE YOUR APPOINTMENT: 209-846-2057
Our Location:
BestValue Water Softener & Filtration Systems
1012 Eleventh St
Modesto, CA 95354